Following the International Holocaust Remembrance Day, a special event, co-sponsored by the Jewish Caucus, Israel Caucus, and European Club, featuring Mr. Mal Berisha, a distinguished Albanian ambassador of career, is going to bring the Albanian – Jewish History to the fore.
This event, open to the public, is entitled "A Promise and a People: The Albanian Jews and the Holocaust." It will be held on February 1, at 7 p.m. in the premises of Harvard Kennedy School (Starr Auditorium, Belfer Building, Second Floor, John F. Kennedy School of Government, 79 John F Kennedy St. Cambridge, MA 02138.)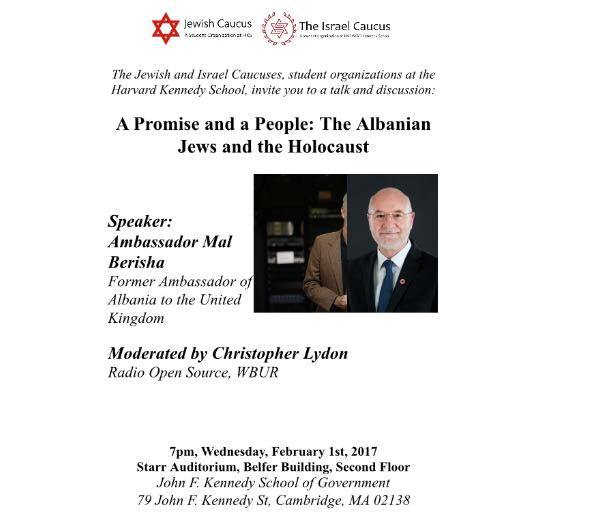 Albania, the only Muslim-majority country in Europe, emerged from the atrocities of the Holocaust with a tenfold increase in its pre-war Jewish population. Based on the highest moral values of "BESA", the Code of Honor for Albanians, thousands of Jews were sheltered unconditionally by ordinary people, mostly in rural areas of the country, the announcement explains.
During this presentation, Mr. Mal Berisha, a writer and a seasoned diplomat (the last posting was an Ambassador of Albania to the United Kingdom), is expected to examine the political, cultural, and historical accounts through the eyes of a Jewish American Ambassador to Albania, the Monarch of Albania, and everyday Albanians who risked their lives to come to the help of fleeing Jews.
Ambassador Berisha will offer remarks, followed by a moderated discussion and Q&A with journalist and public radio host, Christopher Lydon (Radio Open Source, WBUR).
"If there is a single Gentile nation that has the right to commemorate, being proud of its history of the time of Holocaust, that is the Albanian Nation. To remember that Day, I have the honor and privilege to hold this presentation, Mr. Mal Berisha said earlier this week via a posting to his official Facebook.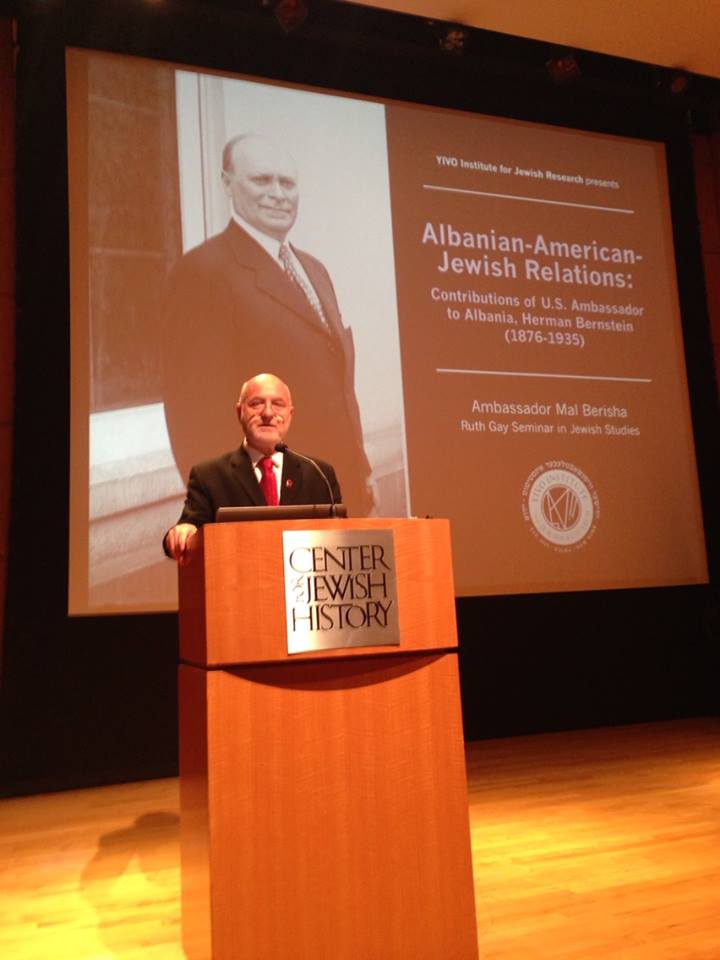 In 2014, Berisha presented his first English book in Manhattan at the YIVO Institute of Jewish Studies in New York City and the US Embassy in London: "Herman Bernstein, US Ambassador to Albania" where he detailed the close relations between Jews, Albanians and the United States Government. The work of the U.S. Ambassador to Albania, Herman Bernstein (1930-1933), championed positive Albanian-Jewish relations.
This book raised a lot of interest but even more the fascinating spectrum he found to explore the relations between the Albanians and the Jews.
Ambasador Berisha, KCFO, has served as the Ambassador of the Republic of Albania to the United Kingdom of Great Britain and Northern Ireland and Ireland from 2012 to 2015. Previously Berisha served as General Consul of Albania to Istanbul from 1993-1997.
Berisha has graduated from the Academy of Arts of Albania. His life has been tightly linked with cultural anthropology in Albania. He is a history scholar and has published a number of books and articles about various subjects of history, culture and diplomacy.
Source: http://blogs.timesofisrael.com/mal-berisha-in-boston-a-promise-and-a-people-the-albanian-jews-and-the-holocaust/